Well, the autopsy begins!
I really like this guitar. It has a big round neck and it sounds wonderful acoustically. The wood has really dried out over the years and it has a very sharp snap when you tap it.....like a really nicely tuned snare drum.
The only let down is that the pickups have weakened over time. They sound wonderfully sweet with absolutely no harshness but they have the output of a single coil. Raising them has only helped slightly and after speaking to Spence he reckons that the magnets need re-charging. I have removed them to send away.
I have fitted OTPG's to my 135 and it sounds fabulous. Just like a really good semi should sound like, big, open and dynamic so that is the guitar that I pick up the most.
However, I love the ES150 so the journey had to begin!
I bought a set of aged Dimarzio 36th Anniversary Paf's in nickel to try out whilst the pickups are away and also to see if the lower volume really was just the pickups.
I discovered the largest "Orange Drop" capacitors I have ever seen!
The pots are full size and A500k volume and B500k tone. By the amount of crud on the pot shafts they had never been out.
I fitted the new pickups , guessed at the height to set them at and re-strung the guitar. Immediately whilst tuning I knew I had a much better volume.
I've read a lot of reviews on these pickups and whilst I have never bought Dimarzio pickups before these are superb in this guitar! They really do sound great with a very PAF like voice. Glad I pulled the trigger on these.
The guitar is alive again and a joy to play and listen to and is now up to par with my other two Tokai semi's as far as output is concerned. They also look the part too! If the originals still don't come up to par after being tweaked I have a great sounding guitar anyway and that's all that counts. It wasn't original when I bought it so no harm done but it's now a great guitar.
Orange would you say??
Dimarzio 36th Anniversary PAF's fitted. They blend in well.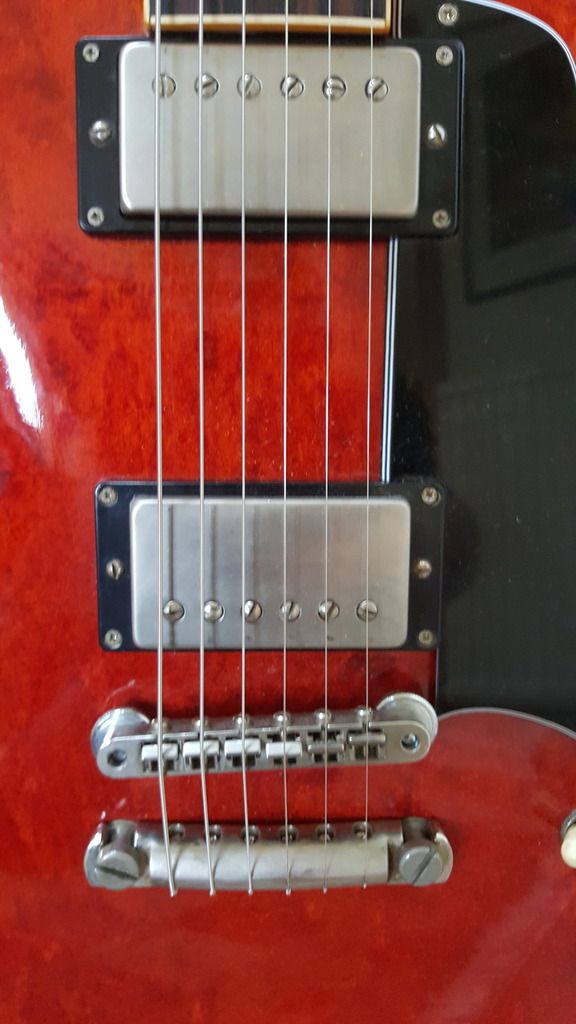 The original 1981 Dimarzio PAF's.
Back together again.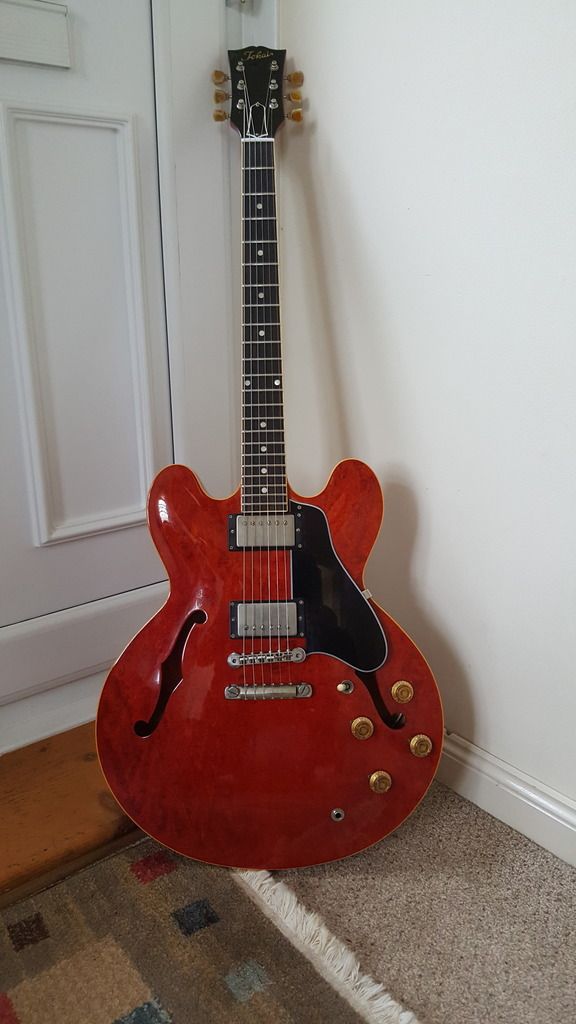 and in her rightful place....Centre stage!