I got the body and neck back from Oigun a couple days ago when he finished painting. Took him some time, but he got it just right, also he had good reason to make me wait a bit, with finishing his
AwardWinningHollowbody
. What a thing of beauty that is.
It's already got fingerprints all over it, coz I had to fondle it on the way home...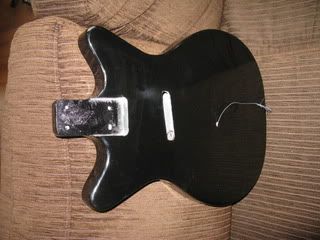 So I bolted on the neck
using these bad boys, T25 bit... :shock: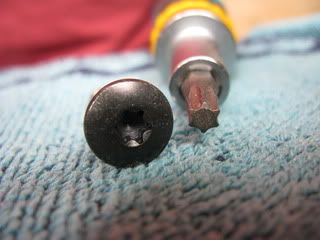 layed out the bridge
never done a nut before so I thought I'd start with a plastic one
layed out knobs and pg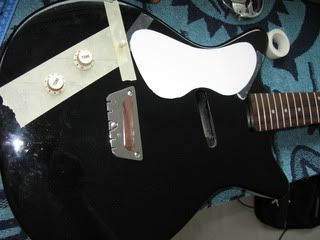 Did some soldering for which I can't find the pics, did some panicking when I thought I had drilled a hole in the wrong place, did a lot of calming down when I realized I hadn't and did some stringing up and test playing.
Nut needs working on, but I figure I'll do what Oi suggested and don't muck around with a plastic nut if I'm gonna replace it with an aluminum one in the end. Make yourself an aluminum from the getgo! Hai Sensei...
Still needs doing is the pickguard for which the pdf I got from TDPRI-member mgdesigns is a perfect drop in solution. Thanks again for that. I ordered some funky looking wallpaper to use on the sides and under the clear perspex pg. Purists won't agree with the pattern I chose but I think it's just deeeeeeeeeeeelicious.
Also need to do a little experimenting with the 3 tone switch that's on the original, haven't gotten round to that. I did wire it up with the 1Meg pots and a cap I had lying around. Gotta say if this thing is gonna sound any better and brighter than with the cap I've got in it (from an old LP copy, so prob around .47?) I might just flip my everloving mind. I'll shoot and post a video today.