G'day fellow guitar lovers!
Please allow me to introduce myself: My name is Thilo, I am 24 years old and started playing guitar 9 years ago. Guitars are my favourite hobby. I always taught myself as I always thought that I do not have to become the best player in the shortest amount of time possible. In the last year I started building my own effectspedals and amps as a sort of recreational compensation.
My first electric guitar was a Gibson SG: I remember going to the local guitar store aiming to buy a Squier Stratocaster. But as I saw this very special SG I knew I had to get her even though she exceeded my budget.
Since then I have stayed with SGs as I got myself a second Gibson. However, in the last years I realised that Gibson USA guitars are not of particular good build quality. They look good and some can be made into great guitars - but you are not guarenteed to get one out of the box.
This is why I started getting into japanese made guitars when I looked for my first Les Paul.
And finally, there she is: A Fernandes Super Grade.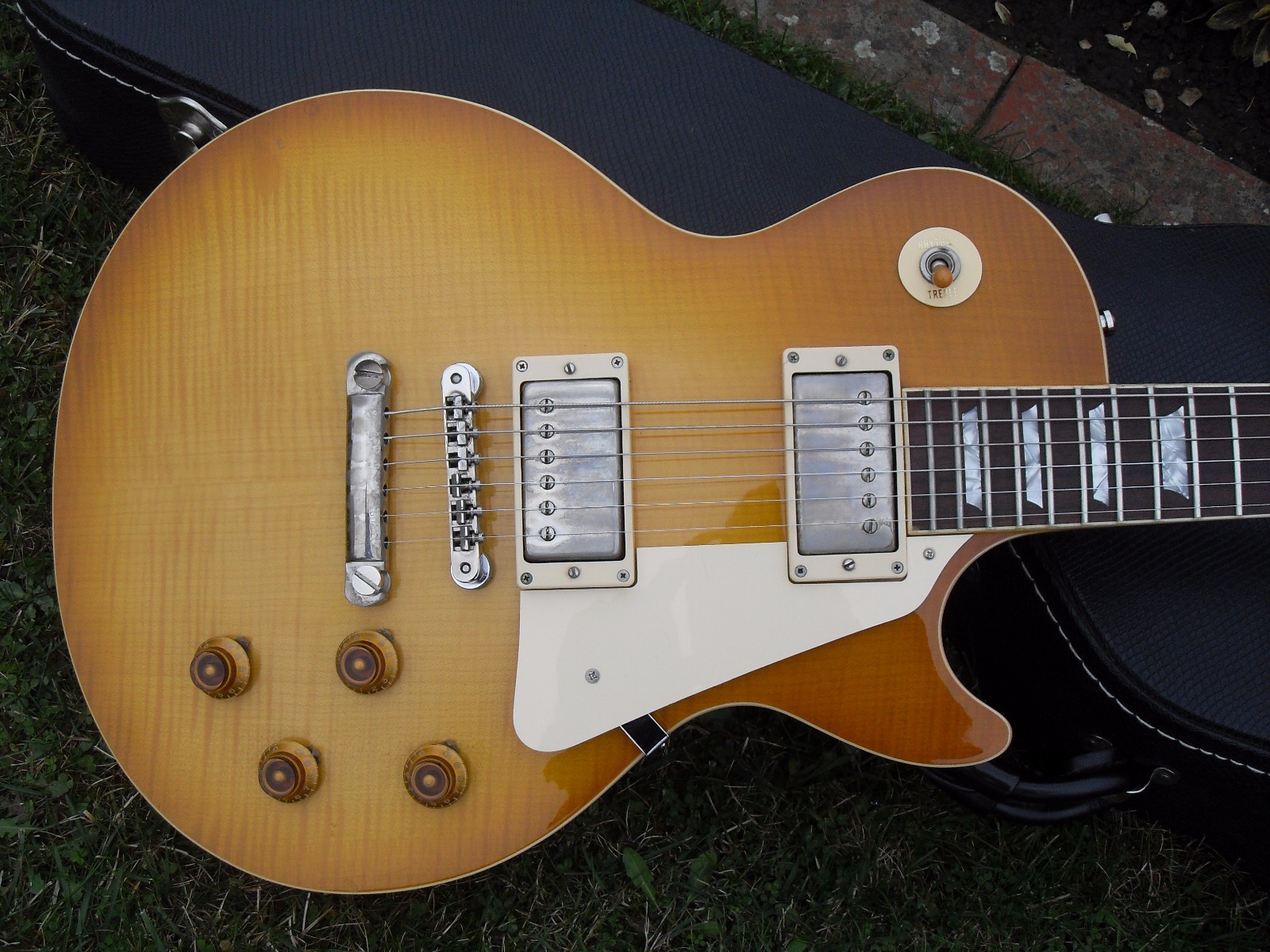 She looks and feels great. The sound is awesome (she is equipped with Gibson Burstbuckers though... there goes the quality
)
She was sold to me as a 1990 MIJ model ("The top model back then").
I do however feel that this is not correct. The original Pots very removed (therefore no date codes). Under the neck PU is a number that reads 31983. On the back of the headstock is a sticker that reads "Made In Japan". Except for a few dents on the upper body the overall condition is way too good for 26 years. She looks more like 2 years old.
Maybe someone on this forum can help me date and identify her.
Thanks in advance!
PS: At the moment I cannot take pictures myself. The ebay pictures are from the seller.
PPS: English is not my first language, I apologize for my mistakes