Firstly, "Hello to all in Tokailand"! This is my first post
.
Well, this morning my new eBay purchase turned up and having had a screwdriver to it, I'm very concerned that it may not be all that was advertised
. I hope that the collective wisdom of you good people will be enough to unravel the mystery. Before anyone asks, I won this "by accident" and didn't do my research properly before bidding, so if it
is
a fake, it does indeed "serve me right".
The seller didn't specify which year the bass was supposed to hail from - only that it was "from the '80s" (which it very probably is, judging by the ageing of the paint and metalwork). So, I'm not even sure which model this is supposed to be. Let's go through the 'pros and cons' ....
The Serial Number:
As you can see, there's no "L" prefix, which rings alarm bells with me.
Could this possibly be a Tokai Jazz Sound serial number, or not?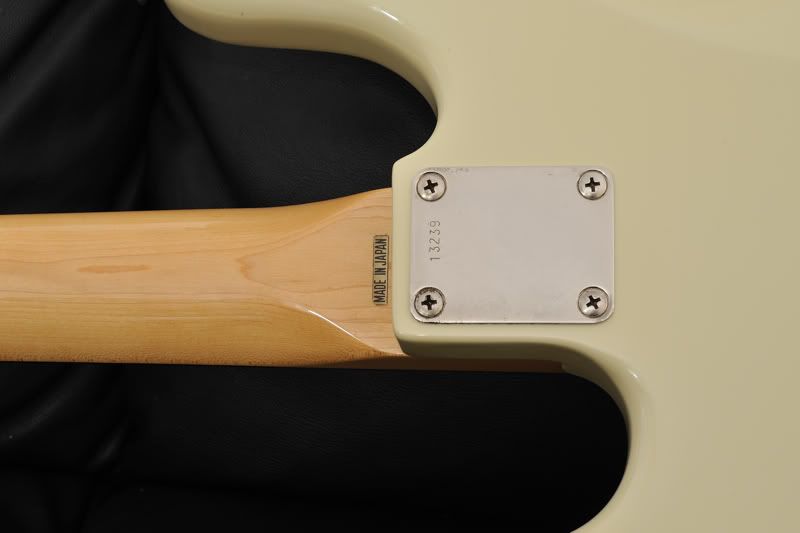 The Neck:
The build quality of the neck is actually very good and appears to be consistent with other Tokai Jazz Sounds that I've seen pictures of. The fretboard is a round laminate of tight grained, Indian (IMO) rosewood and the frets are nicely seated vintage jobs. There is a stamp on the end of the neck, which looks to be in the same font that I've seen on other Tokai guitars and basses.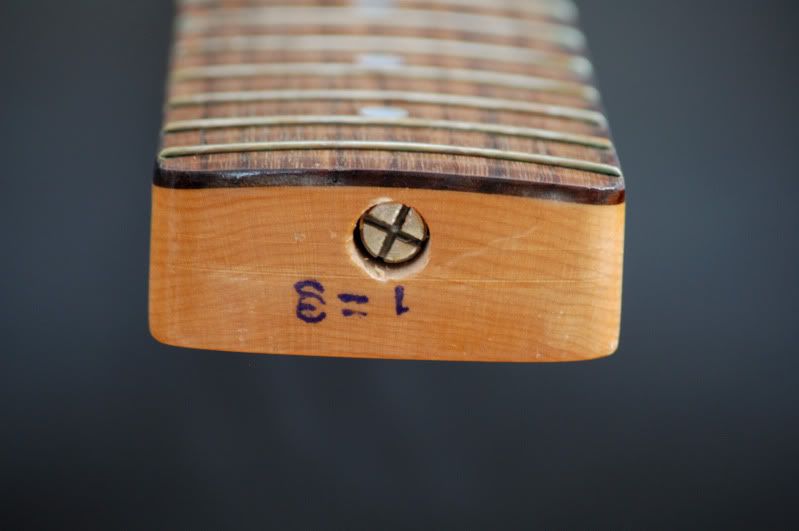 There is also a "Made In Japan" sticker (on top of the lacquer) on the back of the neck, which I haven't seen on other Tokais before.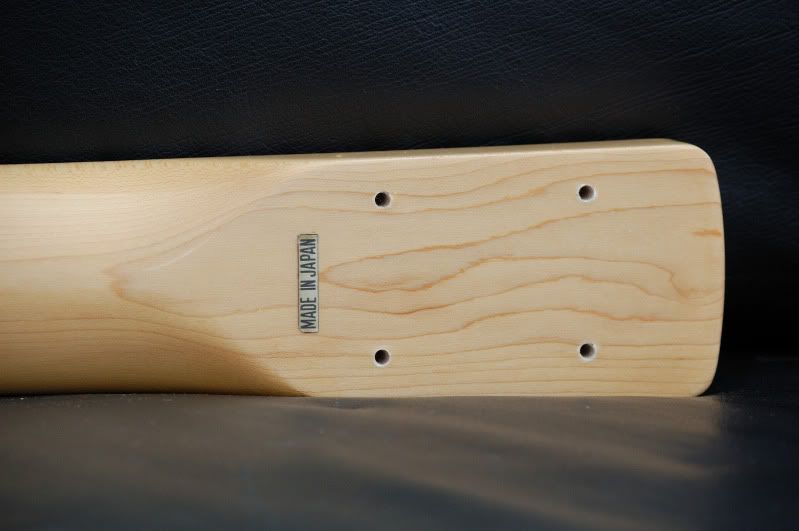 At a guess, I'd say that the finish was poly/acrylic and not nitro cellulose, but I won't really know until I've played the bass for a while (the sweat from my hands makes nitro go very sticky after about 20 mins).
The headstock shape looks good (very Fender) and there are four small divots drilled out underneath each tuner, just like Fender Jazzes of the mid-1960s. The tuners themselves are 4-hole mount models and are very much like late '60s Fender ones (without the Fender stamp, obviously). Nice as they are, they are not the same as the (frankly rather shoddy), 3-hole mount Tokai ones, which I've seen on most other '80s basses.
Did Tokai ever use tuners like mine, because if they didn't, then I think that we can safely say that this bass is a "fake"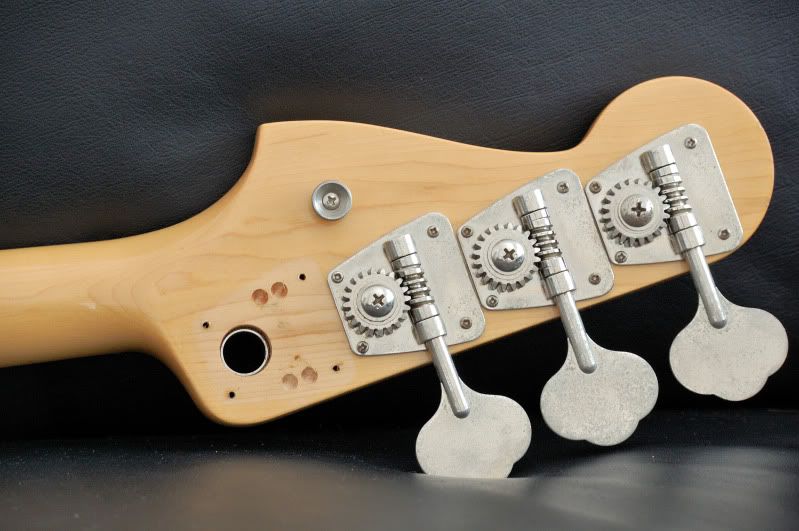 The Headstock Logo:
More cause for concern here. The logo is exactly like most '85 Jazz Sounds and looks to me to be genuine, but it has been cut in two, with the "Oldies but Goldies" part mounted on the ball of the headstock. Again, this is period correct for a mid '60s Fender Jazz, but did Tokai ever do this? The logo appears to have been applied over the top of the lacquer, although where it has been scraped, the wood underneath seems to be matt and not glossy (maybe that's more a function of it having being scratched, rather than an indicator that the logo was applied to an unpolished surface!?).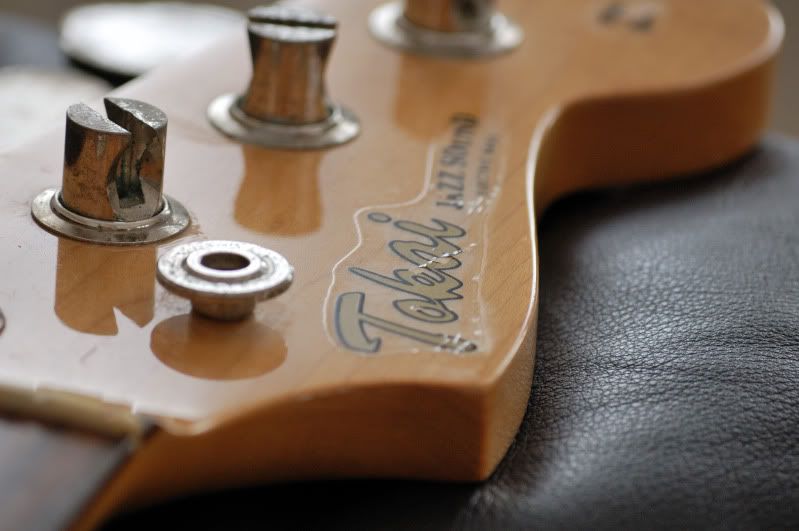 The Body:
When I took the bass out of it's case, I immediately panicked - it weighed almost nothing!!! I was convinced that when I got it apart I was going to be confronted by several dozen layers of plywood. Thankfully, this was not the case and the body actually appears to be made of two pieces of very lightweight alder
. I'm happy about that, because there's a good chance that this bass is going to have the vintage Jazz tone that I'm looking for (it came without strings, so I haven't played it yet).
There are no stamps or markings in the body cavities, apart from some red crayon in the neck pocket.
Is this normal for painted bodied Tokais, or should there be some maker's mark somewhere?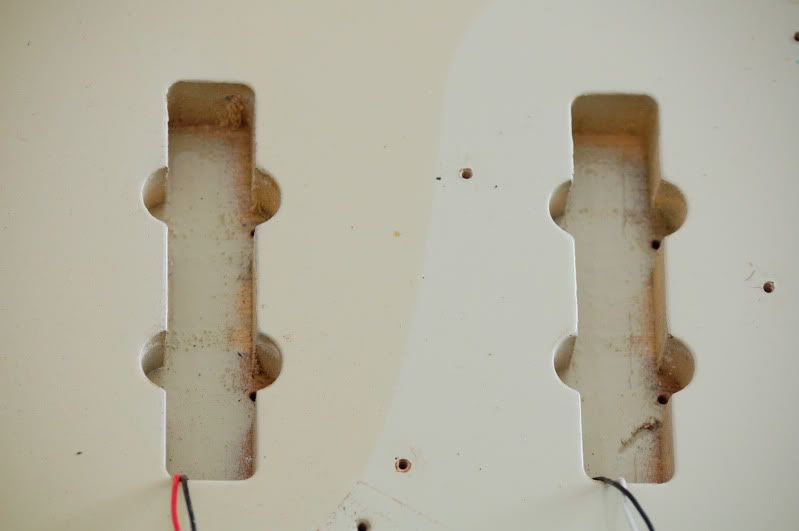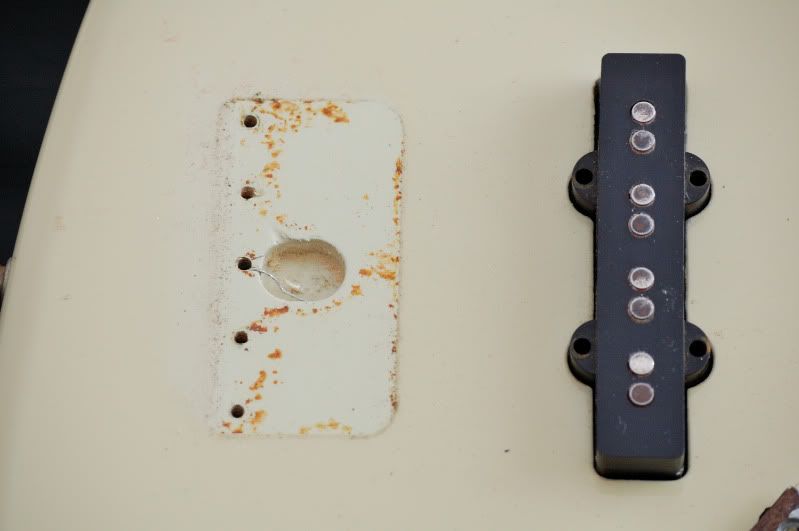 The Scratchplate:
Almost ceratinly the original, as it looks like it's never been taken off before (it still had fragments of polythene in the screw holes, from the original protective sheet).
Things is, it's not very convincing looking tortoiseshell and it's only a 3-ply, so it's black on the back, is this correct?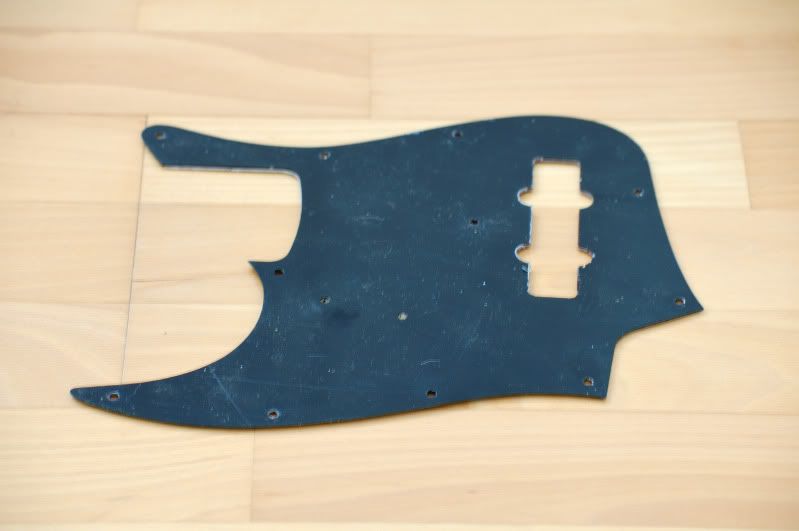 The Electronics:
The pickups look wrong to me
. They are semi-sealed units, with the cover being glued to the pickup. Along the bottom of each pickup, underneath the foam pads, are two bar magnets running across the entire width of the pickup.
These are obviously nothing like Fender's design, but would Tokai have ever used pickups like this?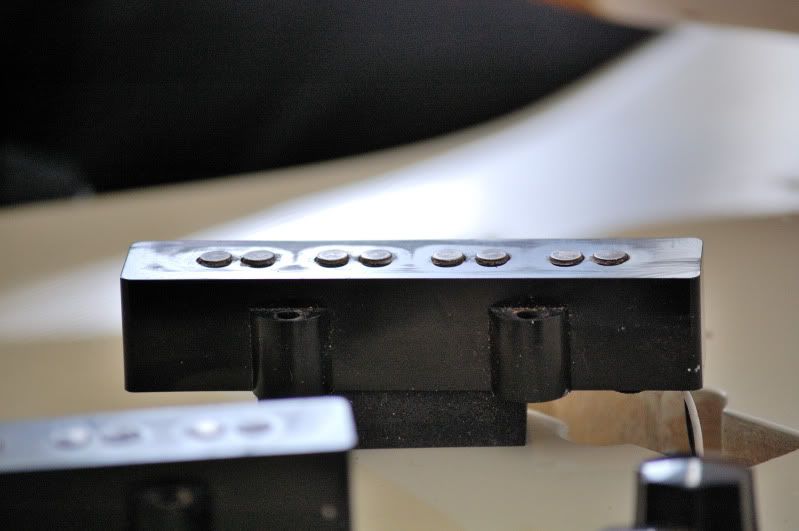 The pots and wiring look pretty standard for a passive Jazz Bass.
Can anyone tell from the photo whether or not these are standard for Tokai?
The Hardware:
The bridge looks exactly like the sort used on Tokai Jazz Sound basses, but then many other Japanese basses used these parts too, so I guess that doesn't mean much
.
The control plate is very rusty and therefore of dubious quality, but then I have seen early Tokai ones starting to show signs of rust, so again, this doesn't rule out the possibility of it being original. What do you guys think?
In Conclusion:
I plan to clean up the bass, put it back together with new strings on and give it a good 'road test'. If it plays OK and sounds (acoustically) as good as I'm expecting it to, I may just keep it and use it anyway. But, I did pay for an original Tokai and if we can be sure that it's
not
a Tokai (particularly if it turns out that it sounds crap), then I may yet decide to try and get my money back from the seller (not always easy with eBay).
So, I really need as much quality input as I can get on this one, please folks
.
If anyone can post pictures of similarities between my bass and theirs, it would be very reassuring, but equally I need to know the truth - so there's anything that clearly labels it as fake, I have to know about it.

The other big question is: If it's not a Tokai, then what is it?
I'd love to hear your thoughts.
Thanks in advance for your help with this one. If it does turn out to be genuine, I look forward to a long and happy stay on this forum. If it's a dud though, you might well never see me again
.