---
---
Well that one?s an LS50 ? I think his price is more appropriate to LS80, but Reborn prices have risen sharply over past year, pricing is patchy so you still see some going around $750-$850, but most dealers now want around $1000 regardless of model number
.
Ian.
---
I bought an '81 LS50 from Dana (a tokairegistry forumite and all around nice guy). Paid $731 plus $50 shipping. It came with a good quality real Gibson HSC (which was maybe $100 right there?)
The guitar is immaculate (seriously, it's almost cosmetically perfect), plays wonderfullly (slight bit of fret buzz with moderate action but nothing I can't live with) and has excellent sounding pickups (if microphonic at higher volumes...which, by the way, I can say the same thing about the unpotted expensive "boo-teek" pickups I've been through). This guitar just has a cool vibe to me. I love it. It doesn't have the "50" engraved on the last fret which I've been told since I bought it that it makes it "lower grade" and less desirable. Suits me fine...if this is lower grade I'll take it if it keeps the cost down. BTW, there is nothing low grade about the guitar. It is truly one of my favorites. I'll sell the Gibsons before I sell it.
The only reason I'm keeping my Gibsons now that I've gotten this Tokai is that, with the way Gibson is jacking their prices up, these will probably see a price rise in the future also (not that I'm in this for the money...it's just that I don't want to just give them away to someone who is).
I have no idea how the '78 LS50 Reborn compares to a later Love Rock. I only know that "myth" about Tokai guitars came true for me with this one particular guitar that I feel fortunate to have got. Thanks again Dana.
I'm trying to goose Ochay (Mackelkea?) into working with me for one of the pride of his stock
I know he's somewhat of a hoarder
Man, I'd love to personally see his stable but unfortunately I don't live in So. California anymore.
Clay Jones
---
The impressed number is a nice touch for collectors, but I doubt it indicates any better quality ... I wouldn?t let anyone sell you that story. Agree about the early Gotoh pups ? very nice tone, maybe need potting if everything?s dimed through a high gain amp, but otherwise they?re fine. Having said that, I just made the opposite move and bought an old Gibbo (hasn?t arrived yet, so no idea what that?s like)
.
Ian.
---
Let us know about it Ian.
I've had 7 LPs from various years. Nothing collectible I guess. I've got an '80 Heritage 80 Elite Standard which one of the local shop owners here wants desperately so I guess there's something to that one.
My favorite of all has been a stock '82 Standard. Great sounding guitar
after
the stock pickups where replaced. They were really very bad...I kept them in the case but I don't know what make they are. I was fortunate enough several years back to get a pair of Tom Holmes' before the prices went crazy stupid on them. They're in it now. If I didn't have those in it I'd go with the Florance Voodoos or even the Duncan's which try to replicate the PAF tones (reasonably priced and sound fine to me).
I had a cool
looking
'85 Standard (beautuful faded cream) but what a dog that was. I spent a lot on quality fret work, set up etc and it was just a stinker to play. I dumped over $1500 into that lesson...I bought it sight unseen.
The '70s era LP Customs I thought were real stinkers too. I must have had one that was the heaviest on record. It was a solid 12+ lbs. of crummy.
I keep a beater '69 Deluxe just for the (superficial) sake of saying "I have a '69 LP". It's a POS too and I keep it in the closet. It hasn't seen the light of day in about a decade.
If I had to keep just one of these guitars I'd be hard pressed between the '82 Standard and the '81 Tokai LS50.
Honestly, at the moment right here and now, I'd take the Tokai.
I wish you good fortune with yours Ian.
Clay
---
Hi Clay ? ha, sounds like I?m going to need all the luck I can get, judging from your experiences with Gibson
.
Well, I say ?old?, I mean not new Gibson? in fact it?s exactly the one you first mentioned ? 1980 Heritage-80/Elite. Really I just bought it because the price was good ? the guy had an accident & chipped the corner off the headstock (apparently), & to tidy that up he re-cut the top edge of the headstock ?-inch lower ? not really noticeable, except Gibbo logo looks a little higher than usual. Apart from that it?s the usual faded honeyburst quilt top, but no other changes & all original fittings inc. the Shaw pups (& original case) ? I?m a sucker for any older stuff in original condition
.
Ian.
---
Hey Ian,
I know the Heritage 80's are getting to be somewhat rare and it seems to be the only Gibson I have that most of the store owners, collectors etc are concerned about.
Was the headstock repair on yours done well?
Here's mine...it's a beautiful guitar. I always thought it had "just the right amount" of flame.
Oh, yes...and I checked on my listing from several years back when I sold that '76 LP Custom...it weighed a hair over 11 lbs (it just felt heavier in my memory!)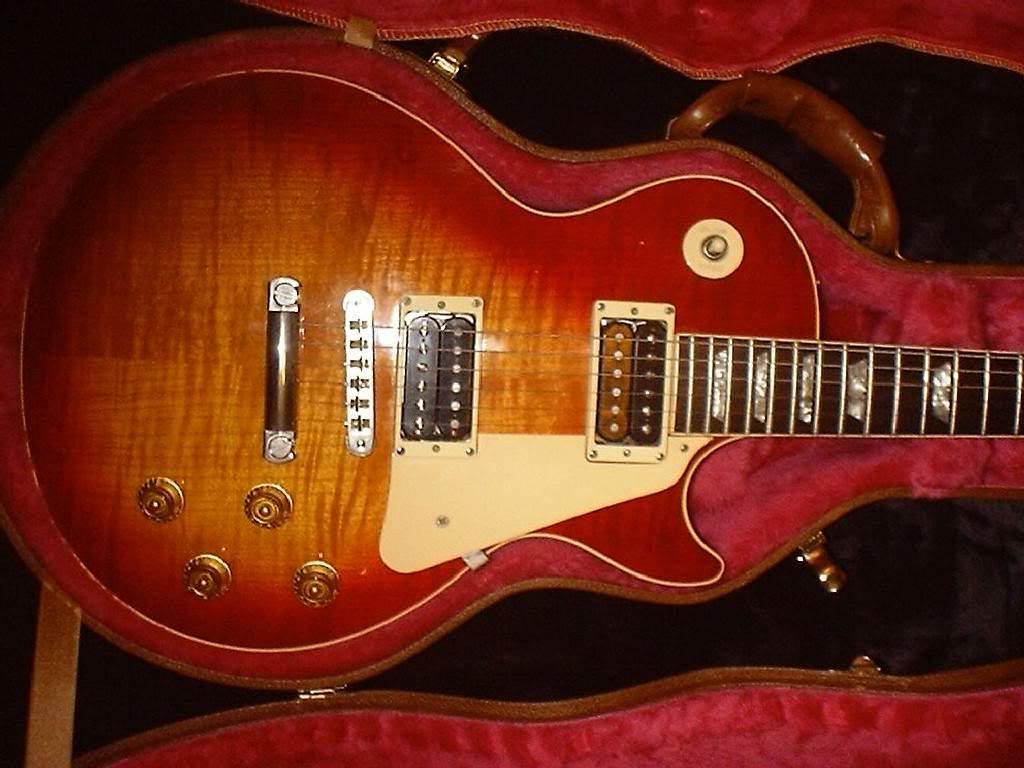 ---
Hi Clay
? thanks for the photo, sweet guitar, I agree on the amount of flame? don?t like them too dramatic, begins to look artificial ? mine is more quilted, not my favourite grain pattern, but not too bad on this one (not seriously OTT). I said ?honeyburst but it?s really more faded than that, sort of aged Iced-Tea. It?s not really a
repair
to the headstock, really just an unnecessary alteration ? he could easily have left it with the corner missing. The guitar won?t arrive until end of next week, but I?ll try to post some photos so you can see what I mean
.
Ian.
---