I thought I would give some thoughts on an original ES150 and it's newer sibling the ES158. Sorry for the long post but just really loving my Tokai semi's!
I bought the ES158 earlier in the year and I have posted about it in this forum. I originally contacted Mark Fletcher (Villager) about the cherry ES150 he had for sale on his website but Mark was away for quite awhile. I couldn't wait so when the new ES158 came along I had to buy it!
I love the guitar, it is flawless and sounds really good. I have no intention of modifying it.
However, I still hankered after Mark's guitar and due to a stroke of fortune I found myself in a position to buy it.
Firstly, I have been around guitars now for a very, very long time but that only makes me an expert in what "I" like. I don't care what is on the headstock...a great guitar is a great guitar. Over the years I know how I want a guitar to sound and feel but that's personal to me. I am still as enthused about music and gear as when I was 14 and that's a long time ago!
The 1981 ES150 I bought off Mark wasn't original. The tuners, bridge and tailpiece had been changed which were all mentioned in the description. Luckily I have acquired a large number of parts over the years and I had spares.
I have replaced the tuners with aged single ring Klusons, the bridge with an aged nickel Faber and the tailpiece with an old Gotoh lightweight so it looks pretty much original.
The pickups are original DiMarzio Pafs and I have to admit they sound incredible! I have never been a fan of DiMarzio's and have used other brands but what they were making back in 1981 is a great clone of a PAF.
The guitar needed a good set up and a good clean to make it feel like mine. I had specifically asked Mark not to bother changing strings etc. because I would just have cut them off and used my preferred strings so it would have been a waste of money.
Having cleaned the fingerboard, polished the frets and set it up I am blown away. I can't believe how good it sounds. The guitar has a natural compression you can hear acoustically and when it is plugged in it's like having a compressor on but not an electrical one! The compression under your fingers even on a clean sound is bloody awesome! They are humbuckers but if you can imagine the intro to Best Friends Girl by the Cars then you have an idea what the mixed pickup sound is like. You can make it "plink" like the in between settings on a Strat and yet each pickup on their own sounds warm, full and fabulous!
I've read on here that apparently the ES100/150 are the closest you will get to a 59 Gibson 335 and I can believe it. The wood has dried out and when you tap the top it has a definite "knock" because the wood has matured whereas the new one has more of a "thud".
The neck is bigger (YES!) than the ES158 but is the same shape. They are both about the same weight. The new guitar is a rock guitar and more focused although it does have a great clean sound. Just when you get really in to it and smile at the sound you plug in the old one and everything is warmer and more refined...like a good malt whisky against a good blend.
Both are staying as I get the same smile out of both. The old one needs "waking up" again but it is already a fabulous guitar.
Those of you who own them and have posted on here...well now I get it!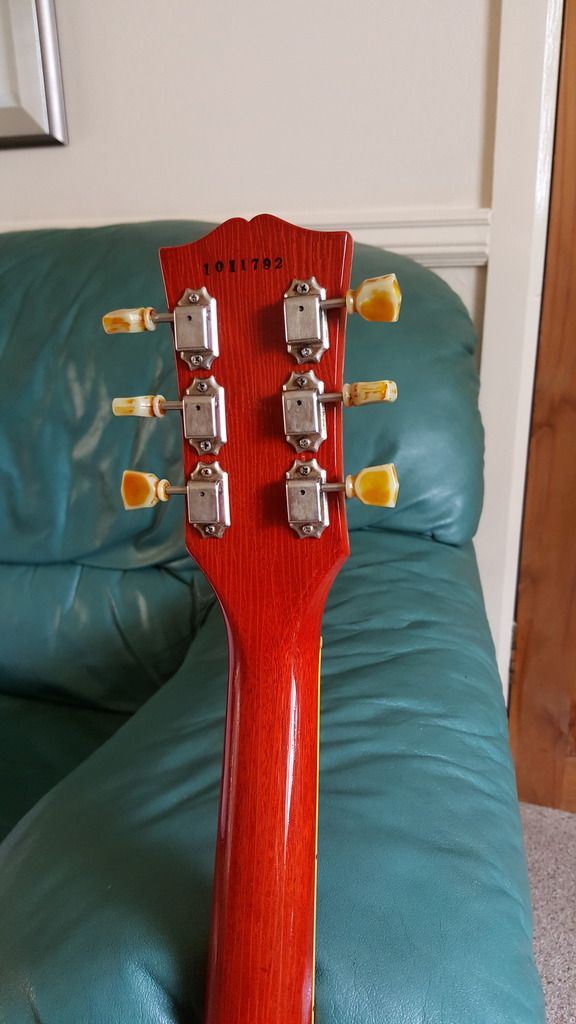 A set of Klusons I had to replace the horrible Gotoh/Grover replica's. Personal but I hate Grovers!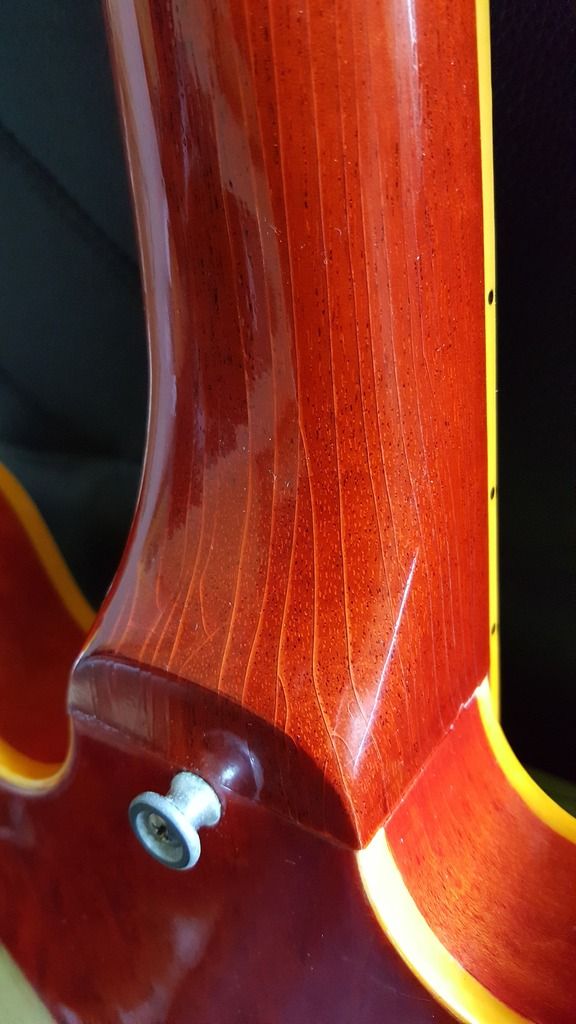 Laquer cracks on the heel. Has same on the back of the headstock.
"New" hardware fitted.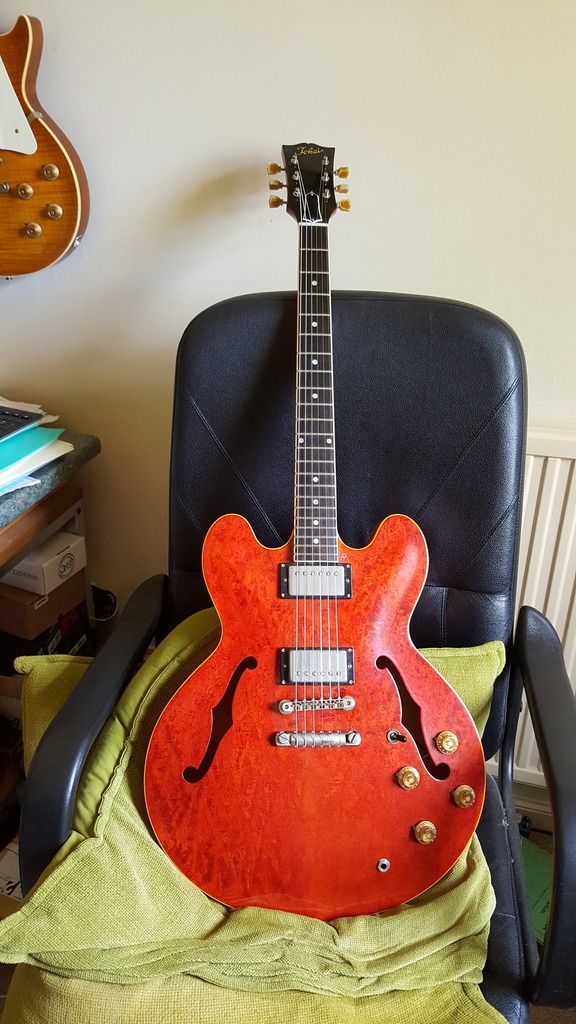 Red is a notorious colour to photograph. Neither Marks or my pics do it justice.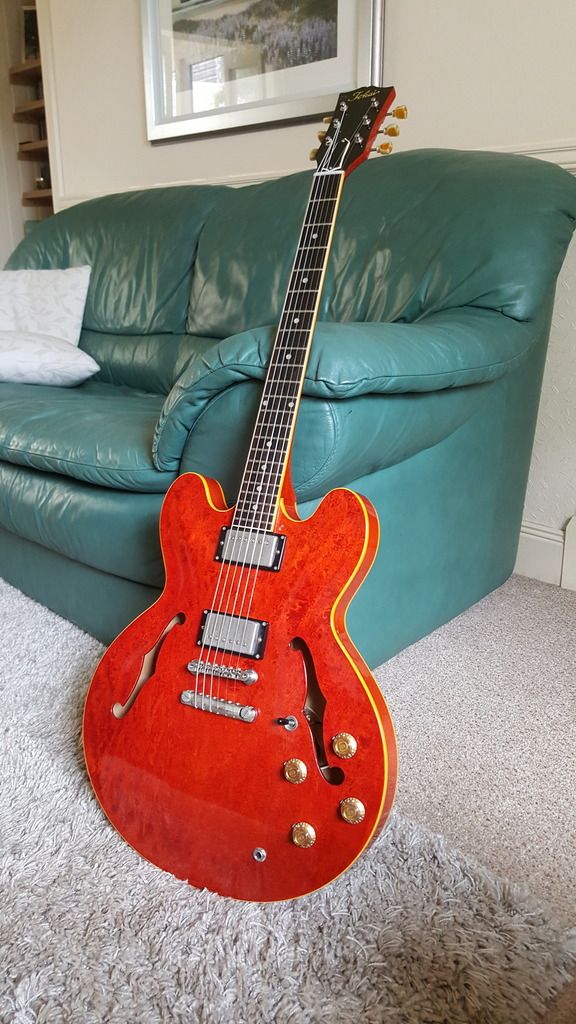 Two siblings together...
The ES158 I bought is a fabulous guitar. It will mature over the years and only get better the more it has music made with it.
The ES150 is already at that point and somebody one day will get a 2016 ES158 and be blown away with it.
I have looked on this forum and elsewhere but I can't find any information on what the difference is between the ES100 and the ES150. The pics I have seen of the 100's on here look the same and they all look fabulous guitars that age has just made better.
Now it's time to plug in and smile!
Thanks if you made it to the end.........
Brian