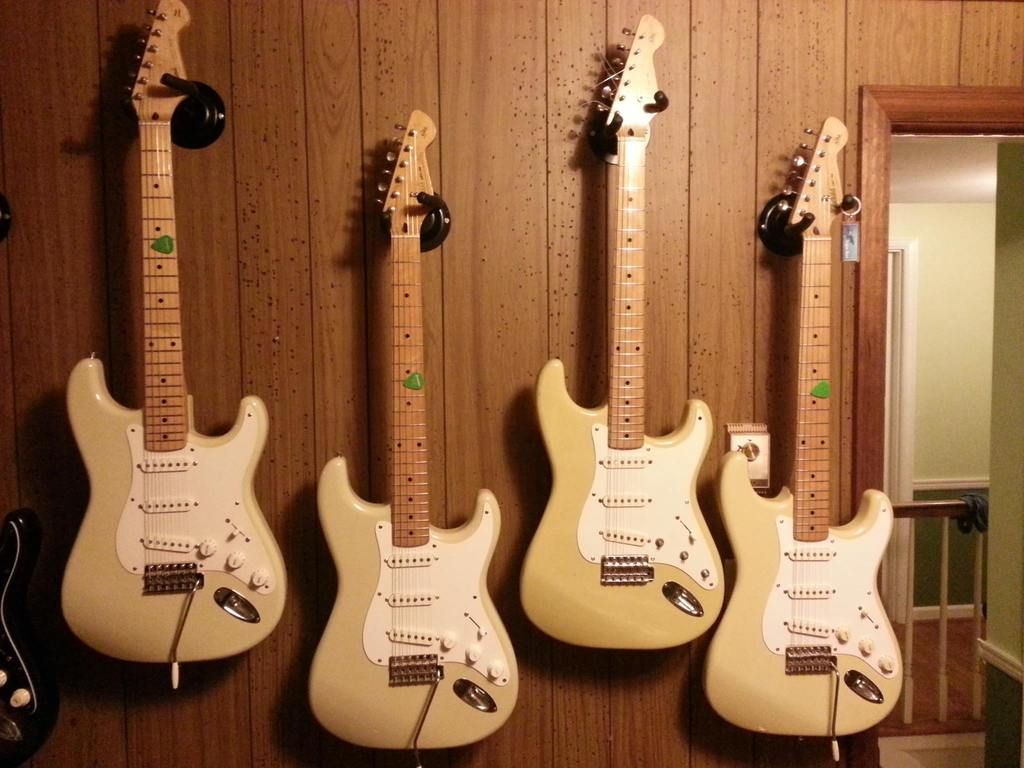 .... The one that is third from the left is the new one. It is a TST-56 with a blond finish. It looks a lot like all the three Olympic White ones.
Left to right ... Probably a, AST-56, has a new decal (the Springy Sound one from e-bay, I bought it that way) , AST 56 "Bitsa" I put together from parts, The newest one, a Blonde TST-56, body and neck stampings match, and my old beat up TST-56 that has a TST 62 body on it, in OW. ... This Blonde TST is my latest purchase is my closest to a replacement for my original TST yet. I bought it on EBAY. I'll share some images soon. It needed a pickup, ( I had to use a "U" the rest are "E"s, and I had to replace the bridge. I used my Tokai bridge, but it's missing the "Final Prospec" saddles. When I bought my TST, they had metalic red and blue, ad a creamy olympic white. I have seen a few with a see thru finish now. Since my body has the right stampings, I believe it to be original. I am not sure why some TST-56 have a see thru finish, and others are solid, but they are my favorite!
More images from the clean up .... I thought it was Olympic White, but it really is Blonde ...
[/img]
You can just see the grain in this image. I think Some TST-56s had opaque and when I bought my original in 1984, they had solid red, white, or blue ..
[/img]
Here's the body after a quick polish with Maguires and a clean up with Dunlop spray polish ...
[/img]
Came missing one of the E's the Dimarzio did sound good ...I had a U that I installed and sounds quite nice.
[/img]
Tokai never did bury the decal in lacquer, but they are still pretty.
[/img]
The neck cleaned up with Meguires and a tittle chrome polish on the frets .. I did a repair to the nut with baking soda and crazy glue, so far it worked great and it's invisible.
[/img]
Body Stamp ( it matched the neck ... yea! )
[/img]
Here is is , bolted together, I pulled out the folded up string pack used a a shim, and sanded down a very thin piece of maple veneer ( About 10 / 1000's) The bridge was not right, and I had a Tokai laying around, so I used it. I have Fender Pat Pend. saddles ordered, since it's impossible to find FINAL PROSPEC units.
Waiting final assembly ...